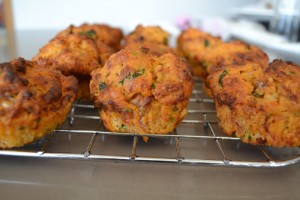 Ingredients:
375G self raising flour
140G Ballymaloe Original Relish or Ballymaloe Jalapeno Pepper Relish, plus extra to serve
300G finely sliced /chopped prosciutto or ham
1 cup wild garlic leaves, chopped, or baby spinach
¼ cup chives , chopped
180g grated cheddar
125ml extra virgin olive oil
250ml milk
2 eggs whisked
sea salt and cracked black pepper
Method:
1. Preheat oven to 170°C. Place the flour, relish, prosciutto, wild garlic, chive, cheddar, oil, milk, eggs, salt and pepper in a large bowl and mix until just combined.
2. Divide the mixture between 12 x ½-cup-capacity (125ml) lightly greased muffin tins lined with paper cases and cook for 25 minutes or
until cooked when tested with a skewer.
3. Turn out onto a wire rack to cool slightly. Serve with the extra Ballymaloe Relish. Makes 12.
Source: Ballymaloe Foods