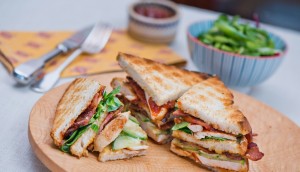 Ingredients:
(Serves 2)
1 cooked chicken breast
8 pieces of crispy streaky bacon
Lettuce
1 tbsp Ballymaloe Relish
1 tbsp mayonnaise
6 slices country white loaf
Method:
Grilled chicken works well in this recipe or you can use leftover roast chicken if you prefer. Cook the bacon on a griddle pan. Cut the chicken into slices. Toast or griddle the bread. To assemble the club sandwich, spread the first piece of bread with mayo, and then add lettuce, 2 pieces of crispy bacon, a few slices of chicken and top with Ballymaloe Relish. For the second layer add another piece of toast spread with mayo, top with lettuce, 2 pieces of crispy bacon a few slices of chicken some Ballymaloe Relish and top with the final piece of toast. Cut on the diagonal. Slices of crisp cucumber are a nice addition here.
Source: Ballymaloe