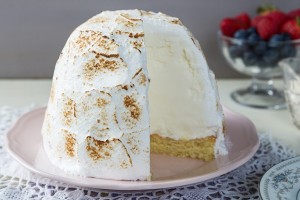 Ingredients:
Sponge Base
50g/2oz Odlums Self Raising Flour
50g/2oz Caster Sugar
2 Eggs
Pinch of Salt
Filling
1 litre block Ice Cream
Meringue Topping
2 Egg Whites
75g/3oz Caster Sugar
1 teaspoon Granulated Sugar
Method:
1. Pre-heat oven to 200°C/400°C/Gas 6. Lightly grease a 20-23cm (8″or 9″) sandwich tin.
2. Make sponge base by beating the eggs, sugar and pinch of salt and the 2 egg yolks (left over from Meringue Topping) until thick and creamy.
3. Fold in the flour using a metal spoon.
4. Transfer to prepared tin and bake for approx 10 minutes until well risen and golden brown. Cool on a wire tray.
5. When cold, place sponge on ovenproof dish.
6. Make meringue by beating egg whites and caster sugar together until thick and shiny.
7. Place ice cream on centre of sponge, swirl the meringue topping over the ice cream making sure it is well sealed.
8. Shake granulated sugar over the meringue and place in a hot oven for 3 minutes or until meringue is golden brown.
9. Serve immediately with fresh fruit.
Source: Odlums