Delicious pieces of salty bacon add a meaty touch to this hearty cabbage and potato soup.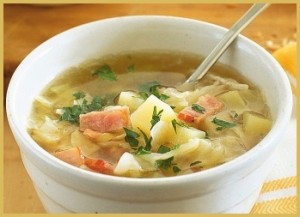 A Neven Maguire Recipe
Ingredients:
50g (2oz) pearl barley
50g (2oz) butter
100g (4oz) rindless smoked bacon rashers, trimmed of excess fat and diced
125g (4 ½oz) potatoes, diced (about 1 medium)
1 small onion, finely chopped
1 garlic clove, crushed
1 tbsp chopped fresh thyme
1.2 litres (2 pints) chicken stock
275g (10oz) cabbage, cored and finely shredded
salt and freshly ground black pepper
crusty white bread or wheaten bread, to serve
Method:
1. Place the pearl barley in a saucepan and cover with plenty of water. Add a pinch of salt and bring to a simmer then simmer gently for 1 ½ hours or until the pearl barley is tender.
2. Drain and set aside until needed. Place a heavy-bottomed saucepan over a medium heat, add the butter to melt and stir in the smoked bacon, potatoes, onion, garlic and thyme.
3. Cover with a lid and cook on a low heat for 10 minutes, stirring occasionally. Add the stock to the bacon mixture with the cooked pearl barley and bring slowly to the boil.
4. Tip in the cabbage, reduce the heat and simmer for about 5 minutes, until the cabbage is just tender. Season to taste with salt and pepper and serve with crusty white bread or wheaten bread.