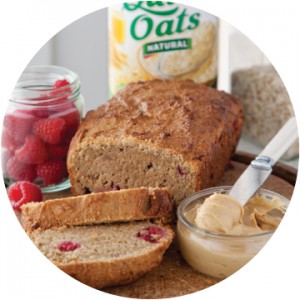 Ingredients:
200g Flahavan's Oats
4 tbsp. Peanut Butter – I use crunchy variety but smooth will work too.
3 large Ripe Bananas
3 tbsp. Coconut oil
2 tbsp. Maple/or Honey
½ tbsp. Baking powder
3tbsp (50 ml) Unsweetened Almond Milk
125g Fresh Raspberries
Method:
1. Preheat oven to 180°C
2. Process the oats into flour, using a nutri-bullet or food processor.
3. Place in a medium sized mixing bowl along with the baking powder.
4. Melt the coconut oil and set to one side.
5. In a separate bowl, using a fork mash the bananas really well so there are no large bits visible.
6. Stir in the peanut butter, melted coconut oil and maple/or honey until fully combined.
7. Scrape the "peanut banana" mix into the oat flour bowl and stir until combined- the dough will be a thick and a little dry.
8. Add in the almond milk and stir until a sticky dough texture is reached.
9. Stir in the fresh raspberries and spoon into a lined baking tin or a silicone tin.
10. Place in the oven and bake for 50 minutes until golden brown and hard when tapped.
11. Remove and let sit for 30 minutes to set before digging in!
12. Once fully cooled store in an airtight container it will keep for 4 days.
Source: Flahavan's 2 minute recipes with Roz Purcell