You can't go wrong with an old-fashioned crumble. Everyone loves it and it's so easy!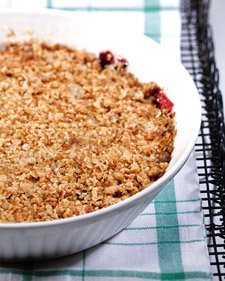 Ingredients:
• 4 tablespoons unsalted butter, melted, plus more for baking dish
• 1 cup coarsely chopped rhubarb
• 1 cup peeled, cored, and coarsely chopped apples
• 1/4 cup Irish whiskey
• 1 1/2 cups light-brown sugar
• 1 1/2 cups McCann's Quick-Cooking Irish Oatmeal
• 1 cup all-purpose flour
• 1 teaspoon baking powder
• 2 teaspoons ground cinnamon
• 2 cups mixed berries, preferably strawberries and blueberries
• 1 cup heavy cream
• 2 tablespoons confectioners' sugar
• 1 tablespoon Bailey's Irish Cream
Method:
1. Preheat oven to 350°F. Butter a 2-quart baking dish; set aside.
2. Stir together rhubarb, apples, whiskey and 1/2 cup brown sugar in a medium saucepan over low heat. Cook, stirring, until fruit is just softened, about 10 minutes.
3. Meanwhile, in a large bowl, mix together oatmeal, flour, baking powder, 1 teaspoon cinnamon, melted butter, and remaining 1 cup brown sugar.
4. Stir berries and remaining teaspoon cinnamon into rhubarb mixture. Pour half of the fruit mixture evenly into prepared baking dish. Sprinkle half of the oatmeal mixture over top. Top with remaining fruit mixture and then oatmeal mixture.
5. Transfer baking dish to oven and bake until golden brown, about 35 to 40 minutes.
6. Meanwhile, place heavy cream and confectioners' sugar in the bowl of an electric mixer fitted with the whisk attachment. Beat until soft peaks form; stir in Irish cream. Serve crumble warm, topped with whipped cream.