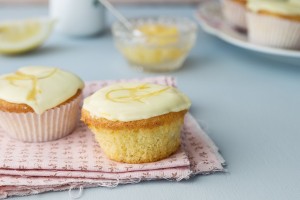 Ingredients:
125g/4oz Odlums Self Raising Flour
125g/4oz Butter or Margarine (room temperature)
125g/4oz Golden Caster Sugar
2 Eggs, beaten
50g/2oz Ground Almonds
Rind of 1 Lemon
2 tablespoons Water
Lemon Curd
Icing
200g/7oz Icing Sugar, sieved
2 tablespoons Lemon Juice, warmed (approx)
1 teaspoon Lemon Rind, finely grated
Few drops Yellow Colouring (optional)
Method:
1. Preheat oven to 190°C/375°F/Gas 5. Line bun tin or cupcake tin with paper cases.
2. Put butter or margarine and sugar into a bowl and beat until pale and fluffy.
3. Add the eggs, ground almonds, lemon rind and water. Mix well.
4. Finally stir in the flour, then divide mixture evenly between the paper cases.
5. Place ½ teaspoon of lemon curd on top of each one and roughly swirl in with the tip of a knife.
6. Bake in preheated oven for 15-20 minutes until risen and golden. Remove from oven and allow to cool.
7. While cooling make the icing by placing icing sugar in a bowl and gradually stirring in the lemon juice, 1 teaspoon at a time, until you have a smooth thick icing. Mix in the rind and colouring, if used.
8. Pour or spread onto cupcakes, add any decorations if liked and leave to set.
Source: Odlums