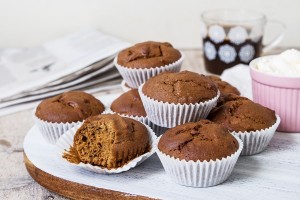 Ingredients

175g/6oz Odlums Cream Plain Flour
50g/2oz Butter
4 tablespoons Hot Water
1 Egg
4 tablespoons Treacle
50g/2oz Light Muscovado Sugar
Pinch of Salt
1 teaspoon Ground Ginger
½ teaspoon Ground Cinnamon
Good Pinch Bread Soda
Method
1. Preheat oven to 190°C/375°F/Gas 5. Line a muffin tin with 9 paper cases.
2. Heat the butter and hot water in a saucepan over a very low heat until butter is melted, allow to cool.
3. Meanwhile beat the egg, treacle and sugar together until well combined.
4. Beat the cooled butter mixture into the egg mixture, then sieve the flour, salt, ginger, cinnamon and bread soda in on top and gently stir until well mixed.
5. Divide between the paper cases and bake for 15-20 minutes until risen and just beginning to crack on top.
6. Transfer to wire tray to cool. Delicious served warm with cream or ice cream.
Source: Odlums