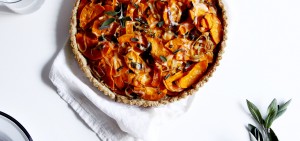 Ingredients:
Crust
1 c. all-purpose unbleached flour
½ c. white whole wheat flour
½ c. oat flour
2 tsp. pure cane sugar
½ tsp. kosher salt
12 tbsp. Kerrygold Unsalted Butter
3-4 tbsp. chilled water
Filling
5 c. butternut squash thinly sliced
1 shallot, thinly sliced
⅓ c. Skellig Cheese, shredded
¼ c. olive oil
1 tbsp. fresh sage, roughly chopped
1 tsp. fresh thyme
1 tsp. kosher salt
Method:
1. Make crust. Combine flours, sugar, and salt. Stir together. (A note on oat flour: you can make at home by adding old fashioned oats to a high-powered blender or food processor.)
2. Add butter into the mixture by the tablespoon. Incorporate by hand, smashing butter between your middle finger and thumb to fully incorporate into the flour.
3. Add water one tablespoon at a time until dough holds together, again, using your hands to incorporate. Cover and place in fridge to chill.
4. Meanwhile, make filling. Peel and thinly slice butternut squash. Slice shallot as well, and add into a large bowl with the remaining ingredients. Toss to combine.
5. Assemble. Preheat oven to 400 degrees F. Press tart crust into an 11-inch tart pan being sure to press the crust up along the sides. Use your other thumb to level the top of the crust.
6. Add filling ingredients, making sure to spread evenly. Bake for 40-45 minutes. Serve warm.
Source: Kerrygold