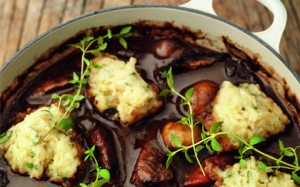 Ingredients:
4 tablesp. sunflower oil
500g shallots or button onions, peeled
1 large onion, sliced
4 carrots, cut into 2½cm pieces
1 tablesp. sugar
65g plain flour
Salt and freshly ground black pepper
1½kg chuck or braising steak, cut into 6-7cm chunks
75g butter
1 litre stout
300ml beef stock
The leaves from 3 large sprigs thyme
4 fresh bay leaves
4 tablesp. Worcestershire sauce
250g chestnut mushrooms, wiped clean and left whole
250g field mushrooms, wiped clean and thickly sliced
dumplings (Serves 6)
100g self-raising flour
A large pinch baking powder
Salt and freshly ground black pepper
50g shredded beef suet
The leaves from 2 sprigs thyme
Approx. 100ml cold water
Method:
Heat 2 tablespoons of oil in a large, flameproof casserole. Add the shallots or small onions and fry until they are nicely browned all over. Set aside on a plate. Add the onion, carrots and sugar and fry until nicely browned. Set aside with the shallots.
Put the flour into a large bowl and season well with salt and pepper. Add the beef and toss together well. Heat another 2 tablespoons of oil in the casserole and fry the beef in batches until nicely browned on all sides. Set each batch aside with the vegetables as it browns.
Add 25g of the butter to the casserole and stir in the remaining seasoned flour from the bowl. Gradually stir in the stout, rubbing the base of the pan to release all the caramelised juices. Stir in the stock, followed by the beef and vegetables, thyme leaves, bay leaves, Worcestershire sauce and
seasoning. Bring to the boil, part-cover and leave to simmer very slowly on the top of the stove for 1½ hours.
Melt the remaining butter in a large frying pan, add the mushrooms and fry briskly for 2 minutes. Stir them into the casserole, part-cover, and simmer for another 1 hour until the beef is tender.
Herby dumplings
Sift the flour, baking powder, salt and a little pepper into a bowl and stir in the suet and thyme leaves. Stir in enough cold water to make a soft, slightly sticky dough. Using a spoon, divide the dough roughly into 6 pieces and drop onto the top of the simmering stew 25 minutes before the end of cooking. Recover and leave to cook until fluffed up and cooked through. A fine skewer, pushed into centre of a dumpling, should come out clean.
Source: Bord Bia